From Brad Paul:
Culture, "Marcus" (1992)


I decided somewhere around round 4 or 5 that I was going to ask my friends in Maputo to make a selection. They agreed. We listen to reggae together quite a bit, usually at one of our favorite barracas (basically an informal roadside stall or marketplace bar), maybe at the fish market, a football match or at the gym. But we sat down at my apartment on a specific mission this time. That is, to select a tune for the Podcastbattle.
Reggae is generally pretty popular here. It drifts over the radio with some frequency and a number of local artists either perform straight up reggae or incorporate elements into the popular musical style of Marrabenta. At any rate, we gave the selection process a good effort, but as the beer flowed into the evening we lost a bit of our focus and simply defaulted back to the artist everyone seemingly came determined to support from the beginning: Culture.
I'm a bit surprised by the track selected, but not the least bit by it being Culture. My very unscientific polling indicates that Culture rule Moçambique. Bob Marley, and Peter Tosh, of course, and Aswad and Steel Pulse get a mighty favorable reception. Dancehall has its place, too, as do a number of the Africa reggae artists- Alpha Blondy, Tiken Jah Fakoly, Lucky Dube among others. But my friends just LOVE "that guy" Joseph Hill. Whatever the reason- rhythm, lyrics, harmonies, social commentary- among serious reggae fans in the city of Maputo there's no real competition, it's all Culture.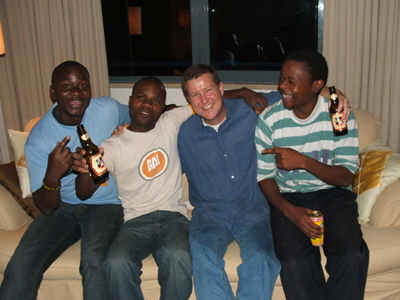 back to podcastbattle.com