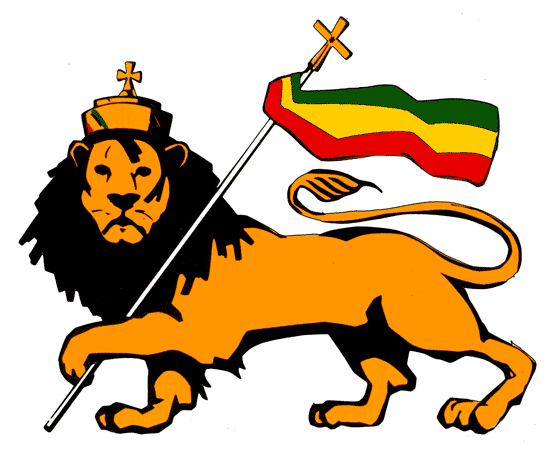 Round 3: ROOTS
From Howard J:

The curator of the Juda Seal Museum often wrote a short description of an album's musical style on the top left hand corner of the outer sleeve. In his recognizable Jamaican handwriting, Kab would give an album his own filing classification such as roots, dubwise, or orthodox. That is perhaps where I first saw the term orthodox associated with Reggae, as Joe pointed out.
On the top of his Burning Spear album 'Hail H.I.M.', hovering over the image of Haile Selassie wearing full royal regalia, Kab inscribed two words; "Dread Shark"
Well, it is just so with this track ya know.
---
Coming from the Clappers Label and recorded in July of 1975 at The Sounds of St. Anns (T.S.O.S.A). Studio, my roots selection is Black Slavery Days by the Skulls, from the album with the same name (Black Slavery Days). I picked this little jewel up at "Jammyland" in NYC a few years back, and have always been surprised that I had never seen it before. Unknown to me, yet strangely familiar, this entire LP is overloaded with serious militant roots tracks from a period in time that produced some of the best Reggae out there.
I choose this particular track for many reasons. To me; the Deepest Roots of Reggae would speak to the topics of a Black Diaspora, suffering and oppression, but at the same time, tempered with faith and conviction brought about by belief in the glory and majesty of the African Emperor, Rastafari. Backed by some foundation singers and players, former member of the original Justin Hines and the Dominos, Tony Thomas wails with penetrating emotion about black slavery days and the agony of being taken to strange lands.

The regal horns, lyrics with poignant tonality, seasoned with a good measure of brimstone and fire all evoke deep rooted sentiment from a time long since past. Recalling Scott's visions of Mortimer Planner and his key brethren, I am confident Black Slavery Days would satisfy even their discerning definition of roots.
---
<![if !vml]><![endif]>

SINGER AND PLAYERS:

Tony Thomas – lead vocals
Leroy 'Horsemouth' Wallace – drums
Robbie Shakespeare – Bass
Augustus Pablo – Keys
Tony Chin - Rhy Guitar
China Smith - Lead Guitar
Bobbie Ellis, Vin Gordon, and Herman Marquis - horns
Recorded at T.S.O.S.A. Studios St. Anns, J.A.W.I.
---
Aside from the who's who list of studio musicians, the originals of this track spring up from the true roots tradition. As it says on the front cover of this album;
Clappers Records is founded for the main purpose of preserving Reggae Music.
We are the first militant anti-corporate record company dedicated preserving,
not exploiting Reggae Music.
Clappers Records were never meant to be entertainment.
It's a weapon without compromise.
A musical weapon for sure, that I now unleash as my roots selection, round 3.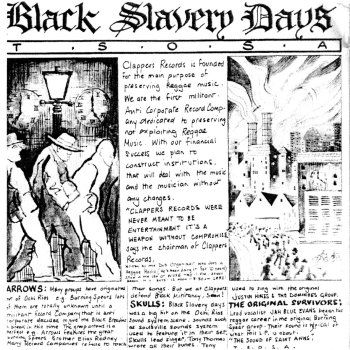 crucial